The Tunney Side of Sports "SULLY"
Written by Dr Jim Tunney on July 31, 2017
On the TUNNEYSIDE of SPORTS July 31, 2017, #651 Up Next…"Sully"
After further review…The 2016 movie produced and directed by Clint Eastwood titled Sully was named after Captain Chelsey Burnett Sullenberger, the captain of US Airways Flight 1546 who safely landed in the Hudson River in New York on January 15, 2009. After taking off from LaGuardia Airport in Long Island, Sully's Air Bus A320 encountered a flock of Canada geese that knocked out both engines. And while Air Buses are built to be able to glide without power, Sully and his co-pilot Jeff Skiles had only a few seconds to decide where to land with 155 passengers aboard.
During the follow-up investigation by the National Transportation and Safety Board (NTSB) many questions were asked as to how this "Hudson River Landing" could be prevented in future "bird-encounter" incidents. The movie portrayed the NTSB as hostile toward Sully and Skiles, although the NTSB claims it was asking difficult questions only to determine proper safety measures. The integration questioned whether Sully could have returned to LaGuardia or landed at Teterboro Airport in New Jersey. Several simulations were shown how landing at either of those two airports was a better option than the dangerous water landing.
Sully, portrayed in the movie by Tom Hanks, said his response very well, indicating that while the simulations were done without the emotion of real-time pressure. In a situation this unusual, the personal responsibility and all that must go through a pilot's mind created the tense reality of the situation.
Hanks', er, Sully's explanation recalled to mind many such decisions that game officials must make during live action on the field of play. While the NTSB wanted perfection, it must depend on the judgment and integrity of its personnel. In sports, fans want absolute perfection from game officials, yet must understand that is likely unattainable. For instance, Major League Baseball is currently exploring the possibility of calling of balls and strikes by use of an electronic strike zone. A recent claim was that today's major league plate umpires are calling balls and strikes at a 30 percent error rate. Furthermore, the strike zone differs from plate umpire to plate umpire, enhancing the cries for electronic monitoring.
While all professional sports leagues are using video technology during their games, the TunneySide is opposed to the use of such measures for balls and strikes. Taking a lesson from Sully's argument, the position here is that human judgment, in games played by humans, is important to the integrity of the sport.
Will you log-in your thoughts about the use of technology in human judgment?
To contact Jim, go to JimTunney.com or email Jim@JimTunney.com.
Jim's books are full of inspiration and interesting stories. Please visit his online store to learn more.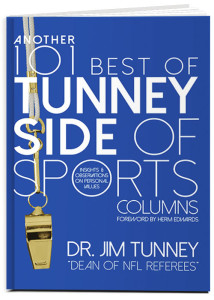 Be sure to get Jim's book 'Another 101 Best of TunneySide of Sports' by clicking this link or using the email above to contact Jim directly.
These TunneySides take issues from real-life situations and relate them as inspiration for the betterment of others.
Jim is available for speaking engagements on leadership and T*E*A*M Building. His books are available for $20 which includes shipping and tax. The Tunney Bobblehead is available for $30. Please visit JimTunney.com. Thank you!
---